Liberty Life providing quality funeral cover for South Africans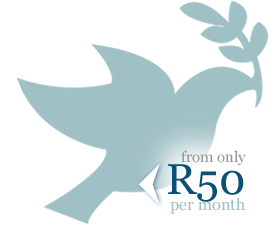 Funeral insurance cover is your easiest and sure way to secure the financial freedom of your loved ones when you move on in life. It's better to have some form of funeral policy than none at all, and Liberty Life funeral cover is one of the oldest and most respected options to choose from. As one of South Africa's leading long-term insurance providers, Liberty, has funeral plans that cater to many different individuals and that fit different financial constraints.
Liberty Life funeral cover starts from as little as R50 per month, and provides you with peace of mind knowing that the uncertainty of death won't leave you or your successors with a heavy financial burden. The following are included in Liberty's funeral insurance:

Cover for between 4 to as high as 21 members of your family and extended family under one plan.
Cover ranges from R10,000 for your parents and/or parents in law, to up to R100,000 for you.
Pay premiums for your children under 24 years old and get free cover for 8 of your other children.
Double benefit if you or anyone in the policy dies from an accident.
Cash back premiums after every 5 years even if you do make claims.
Your cover remains up to the time you turn 65 years old, whereby from there you would not be required to pay any premiums, but remain insured under your policy.
You can have a 1 month premium holiday, where Liberty would pay bur premium for the month you have slipped.
No medical and drugs test.
Liberty Funeral offers benefits:
The following benefits are available from in its policies which are mentioned below
24-hour assistance of families
Transportation of the body of the deceased to his or her place of burial
Up to 15% discount on tombstones from funeral parlours registered with Liberty, anywhere in South Africa
No medical exams
Legal consoling around your estate
Liberty Life Funeral Insurance Contact Details
Tel: 0860 327 327
www.libertylife.co.za
With Grace is a funeral cover and policy provider that gives South Africans information about a range of funeral related insurance products. We work with only the best funeral policy companies in South Africa to ensure you get the best plan and service. READ MORE

With
Grace