Old Mutual Funeral Covers You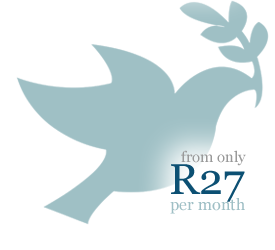 For as little as R27 per month, you could get a maximum cover benefit of R50-000 on your policy. That's a decent sum towards the expenses of your own funeral or any of your beneficiaries. One of the major highlights of Old Mutual is the extensive range of funeral products that they offer, and the outstanding benefits each one promises. These benefits are discussed further below.

Old Mutual Funeral Cover is possibly the most important business in Old Mutual's business in South Africa. With varying funeral cover plans, you should consider getting Old Mutual funeral cover quotes to weigh the pros and cons of the each policy type against offers from other funeral insurance providers.
Old Mutual Funeral Cover Benefits
In its funeral policies, Old Mutual offers an immediate accidental death benefit, and the option to double that cover under its comprehensive plan. You can also qualify for a money back benefit, where you are granted your premiums back if you die within 6 months of taking up the policy. Throughout the duration of your funeral policy, you can miss up to six months of your premiums without being penalized or your policy cancelled.
The main purpose of a funeral policy is to cater to the needs of your funeral, or the funerals of your loved ones. However, because of the expertise Old Mutual has in its other business, the company has decided to extend these to its funeral insurance policyholders. These services and benefits include the following:
Trauma assault and HIV/AIDS treatment
Funeral arrangements assistance
An emergency medical response unit
Financial advice
Legal advice
Old Mutual funeral cover for parents and extended family
Apart from the products above, Old Mutual offers funeral cover as part of its life insurance. This means that as a life insurance policyholder, you can qualify for funeral insurance as well. With this extended funeral plan, you can cover yourself and your extended family for the following amounts:
R50-000 to R100-000 for you as the policyholder.
Up to R30-000 for your spouse and children.
Up to R15-000 for members of your extended family.
Old Mutual Contact Details
www.oldmutual.co.za
Tel: 0860 00 19 19
With Grace is a funeral cover and policy provider that gives South Africans information about a range of funeral related insurance products. We work with only the best funeral policy companies in South Africa to ensure you get the best plan and service. READ MORE

With
Grace